Categories
Categories
Brands
Brands
OPPO DIGITAL BDP-103 BDP-105 DARBEE DIY REGION FREE USB UPGRADE CABLE ABC
Product Description
IF YOU HAVE ANY QUESTIONS OR NEED TECHNICAL SUPPORT,
PLEASE LET US KNOW!
*
************************************************************************
REGION-FREE USB UPGRADE CABLE

!!!
COMPATIBLE WITH
OPPO DIGITAL BDP-103 / BDP-105 &
DARBEE EDITION PLAYERS (103D & 105D)
ALLOWS FOR

REGION-FREE

PLAYBACK of BLU-RAY DISCs & DVDs!NO SOLDERING REQUIRED !! INSTALLATION IN ~2 MINUTES !!

FAST

WORLDWIDE SHIPPING!
INSTALLATION SERVICE AVAILABLE: PLEASE CONTACT US!

Item will be shipped ASAP from the USA by USPS. This listing is for a USB upgrade cable only; not an Oppo Digital Blu-ray player.
KEY FEATURES
1) Make Oppo BDP-103 / BDP-103D / BDP-105 / BDP-105D Region-free & Multi-zone
2) Play All-Zone Blu-rays: Zone A, B, C (manual selection)
3) Play All-Region DVDs: Region 0-9 (automatic selection)

4) NO SOLDERING REQUIRED
5) Compatible with future firmware upgrades
6) Easy installation - internal or external (instructions will be emailed)
7) C
ompatible with the Darbee Editions and EU & AU versions as well

EXTERNAL USB INSTALLATION
Unless you are an electronics professional, external installation is recommended
(Internal installation instructions available upon request)



1.Disconnect the main power cable. Connect the RS232 port of the USB upgrade cable to the RS232 port of the Oppo and connect the USB cable to the USB input of the Oppo.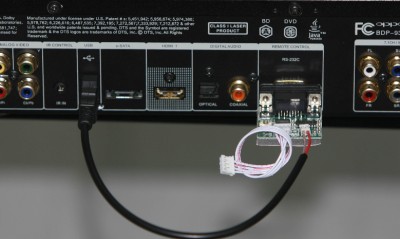 2. By default, your Blu-ray player is region-free for DVD. To set the Blu-ray region to A, B or C, please do the following:

a. Power on the player without any disc inserted. After awhile, the screen with show "NO DISC".




b. About 2 seconds after the "NO DISC" is displayed, press DIMMER, DIMMER, DIMMER, MUTE and then the region code. 1 for A, 2 for B, 3 for C.




c. Power off your player. When started up again, the region code has changed.




d. The region code selection must be done within 20 seconds.




e. You player should have the latest firmware.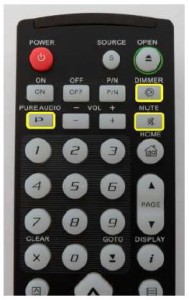 Disclaimer
This is aftermarket hardware which is not approved by OPPO Digital Inc. Please install at your own risk. Internal installation this upgrade cable requires youto open your player and make changes. While no soldering is required,this operation should not be taken lightly. We will not be heldresponsible for any damage caused to you or your player. Pleasepurchase this DIY upgrade cable only if you are completely comfortable with theinternals of electronic equipment. Since you are opening up yourplayer, this will cause the manufacturer's warranty to be null andvoid. This upgrade cable is an electrostatic sensitive device similar to most boards. Please take proper precautions.
Product Reviews
Find Similar Products by Category
Customers also viewed